Monkeys Shoot Out the Windy City

Monkeys Emerge Victorious from '99 Great Chicago Shootout!!!!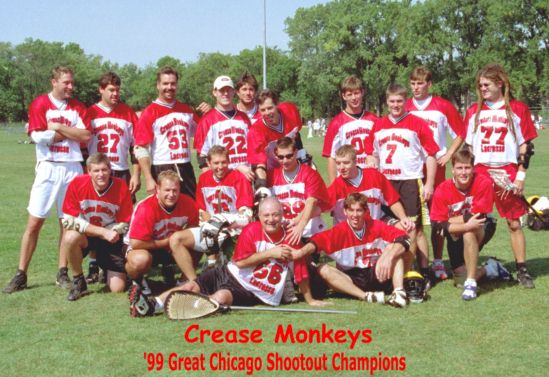 Tournament Highlights:
Staying at the House of Blues Hotel- Home of Jake, Elwood & the Monkeys- First Class all the way!
Scott Hochstadt ripping at least four (4) nets with his rifle shot- and amazing everyone including the referees!
John Fay blowing by his brother- then scoring
Tom Ryan hustling 24x7 & getting every ground ball- MVP!
Hamilton Pollard & Brian Reese putting on a defensive exhibition
Mike Ryan showing leadership on the field & off (Recruiter of the 'New Guy')
Rippy Sailing partying hard & playing hard (In the image of Ogie!)
Wrigley Field as Sosa battled McGuire for the home run record- again!
Closing down the bars in Chi-Town
Andy Lopatin & Dave Maguire quietly making major contributions
Gary, Ted, Doug, & Anthony going 'Wow, did you see that play!'
Who was the 'New Guy'????........Chris Heim not forgotten & a player indeed!
This page was last updated on 08/11/08



What's New Monkeys Win the '07 Hawai'i Lacrosse Invitational- Winning the Master's & Men's Elite Championships (10/28/07) Monkeys- Northwest Win the '07 PNLA Championship (6/2/07) Monkeys Sweep the '06 Hawai'i Lacrosse Invitational- Winning the Women's, Master's & Men's Elite Championships (10/29/06) Monkeys- Harford Win the '06 ALL Championship (6/17/06) Monkeys- Northwest Win the '06 PNLA Championship (6/12/06)

Grand Masters

Win

the the '06 Florida Lacrosse Classic Tournament

(1/20/06) Crease Monkeys Men's Master's Team Wins the '05 Hawai'i Invitational Monkeys- Northwest Win the '05 PNLA Championship (6/16/05)

Grand Masters

Win

the the '05 Florida Lacrosse Classic Tournament

(1/24/05) Crease Monkeys Men's Elite Team Wins the '04 Hawai'i Invitational *Monkeys Women Win the '04 Lake Placid Tourney (8/16/04) **Monkeys Women Win the '04 Big Apple Shootout (6/20/04) ***Monkeys- Northwest Win the '04 PNLA-B Championship (6/14/04) ****Monkeys Women Win the '04 Mardi Gras Tourney (2/15/04)

*****Monkeys-

Grand Masters

Win

the the '04 Florida Lacrosse Classic Tournament

(1/18/04) ******Monkeys Win both the Men's Elite & Master's Titles at the '03 Hawai'i Invitational Tournament (11/4/03) *******Monkeys Win the Inaugural e-Lacrosse Amsterdam Tournament (8/26/03) What's Hot
Crease Monkeys Featured in Jan/Feb. '02 Lacrosse Mag. (US) & Dec. '01 Lacrosse Talk Mag. (UK) What's Cool
CreaseMonkeys.com Called 'WORLD'S BEST CLUB WEB SITE' by Lacrosse Talk Mag. (UK)
Favorite Links