Monkeys to Participate in the 2002 World Lacrosse Championships- Masters Division in Perth, Australia

The Crease Monkeys will be fielding a very competitive team consisting of some of the best over 35 year old players in the US.

| | |
| --- | --- |
| | The current roster includes players from all over the US- from Baltimore, Boston, Washington, San Francisco, Seattle to Honolulu |

As with every Monkeys' trip the goals are: meeting new friends, having a great time, visiting some great places & playing Lacrosse!
The Brass Monkey Bar will certainly be a favorite hangout in Perth: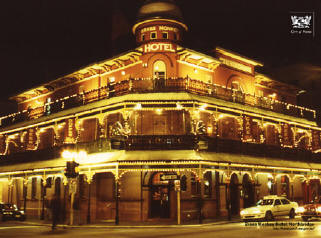 Venue:

| | |
| --- | --- |
| | The University of Western Australia Sports Park, located adjacent to Challenge Stadium in Mt Claremont, has been selected as the venue for the 2002 event. The venue was selected primarily for its capacity to incorporate the "Festival of Lacrosse" concept, whereby the vast number of grass fields (17 in total) with their natural embankments for spectators will provide an excellent venue to encompass the satellite/ancillary tournaments. The venue is set in bushland that helps create an "Australiana" theme. |
| | Mt Claremont is located midway between Perth city and the metropolitan beaches, with both less than a 10 minute drive away. |
| | Most of the World Championship games will be played on the synthetic astro-turf surface to ensure the quality of the surface for the duration of the event. Significant temporary infrastructure, including grandstands, will be brought on to the site to create an international standard sporting facility, with a capacity of up to 6500 spectators. |
| | Championship games have been scheduled to run through the afternoon from 1pm to 9.30pm. All satellite/ancillary (including Masters) tournament games have been scheduled to be completed before the Championship games commence. |
| | Online map of the venue |

Find out more about Perth at: www.perth.wa.gov.au
Western Australia at: www.westernaustralia.net
Perth International Airport: www.perthairport.net.au
Transport in Perth: www.transperth.wa.gov.au

Hope to See You in Australia in July, 2002!!!
This page was last updated on 08/11/08



What's New Monkeys Win the '07 Hawai'i Lacrosse Invitational- Winning the Master's & Men's Elite Championships (10/28/07) Monkeys- Northwest Win the '07 PNLA Championship (6/2/07) Monkeys Sweep the '06 Hawai'i Lacrosse Invitational- Winning the Women's, Master's & Men's Elite Championships (10/29/06) Monkeys- Harford Win the '06 ALL Championship (6/17/06) Monkeys- Northwest Win the '06 PNLA Championship (6/12/06)

Grand Masters

Win

the the '06 Florida Lacrosse Classic Tournament

(1/20/06) Crease Monkeys Men's Master's Team Wins the '05 Hawai'i Invitational Monkeys- Northwest Win the '05 PNLA Championship (6/16/05)

Grand Masters

Win

the the '05 Florida Lacrosse Classic Tournament

(1/24/05) Crease Monkeys Men's Elite Team Wins the '04 Hawai'i Invitational *Monkeys Women Win the '04 Lake Placid Tourney (8/16/04) **Monkeys Women Win the '04 Big Apple Shootout (6/20/04) ***Monkeys- Northwest Win the '04 PNLA-B Championship (6/14/04) ****Monkeys Women Win the '04 Mardi Gras Tourney (2/15/04)

*****Monkeys-

Grand Masters

Win

the the '04 Florida Lacrosse Classic Tournament

(1/18/04) ******Monkeys Win both the Men's Elite & Master's Titles at the '03 Hawai'i Invitational Tournament (11/4/03) *******Monkeys Win the Inaugural e-Lacrosse Amsterdam Tournament (8/26/03) What's Hot
Crease Monkeys Featured in Jan/Feb. '02 Lacrosse Mag. (US) & Dec. '01 Lacrosse Talk Mag. (UK) What's Cool
CreaseMonkeys.com Called 'WORLD'S BEST CLUB WEB SITE' by Lacrosse Talk Mag. (UK)
Favorite Links